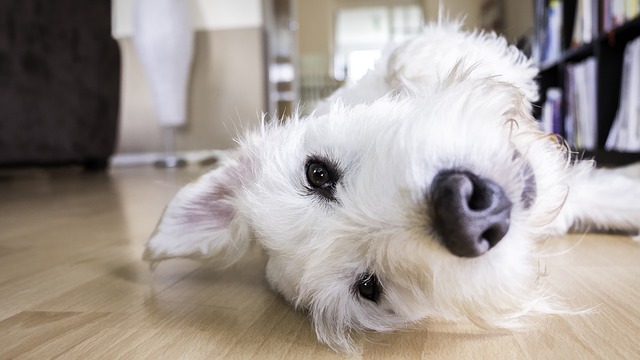 Being the owner of a pet can be similar to having a child; you have to think about his daily needs while also keeping him safe, and sometimes you also have to consider his mental and emotional state as well. Dogs, especially, can be very emotional creatures, and since they can't use language to let us know how they're feeling, it's up to you to help keep anxiety at bay and make your pup's emotional well being a priority.
If you've recently moved into a new home, you may be seeing the effects of your dog's anxiety or other mood disorder. Many animals become stressed out when faced with a new environment, especially if they were rescued from a shelter or came from an abusive home. It's important to do all you can to keep your pet happy and comfortable during the move and just afterward in order to make his transition a peaceful, happy one.
Read on for a few tips on how to get started.
Make the move easy
A move can be overwhelming for some pets, so in the weeks prior to the big day, keep moving boxes and packing materials contained to one or two rooms in your house so your pet won't see changes happening. Arrange for a good friend or family member to care for your dog on moving day so he'll be away from the action and chaos, or keep him safe in a closed back room of the house.
Install a fence
If your home doesn't have a fence, consider installing one in the backyard that will help your dog stay safe and keep him from crossing property boundaries. Depending on the size of your property and what type of materials you want, installing a fence can run about $2,671 on average, which is well worth it to keep your dog safe and happy.
Bring his belongings
Many homeowners are tempted to buy all new things for the brand new house, and that extends to the dog; a new food dish, new bedding, and new toys to replace those chewed-up old ones. However, having familiar items in an unfamiliar place will help your pup transition more easily and feel comfortable after the move, so bring along his favorites and keep them around just a little longer. Once he's at home, you can introduce some cool new purchases.
Introduce him to the neighbors
If possible, before moving in, introduce yourself--and your dog--to the neighbors. This way, your pet can get a feel for the new smells, sights, sounds, and other animals he'll come across, and your neighbors can see that the new guy next door has good manners. Let him sniff around and explore the property a bit while you're at it, so he won't be overwhelmed by all the stimuli.
Train him up
Speaking of manners, it's not a bad idea to go over some basic commands with your dog before the move. Not only should he know how to sit and refrain from jumping up on guests, he should also know how to pay attention to your commands, especially when it comes to barking. Vocal dogs are the biggest complaint from new neighbors.
Easing your dog's transition to a new home doesn't have to be stressful; with some planning and a little help from friends and family, you can ensure that your dog will love his new home and will have no problem settling in, even if he has shown signs of anxiety in the past.